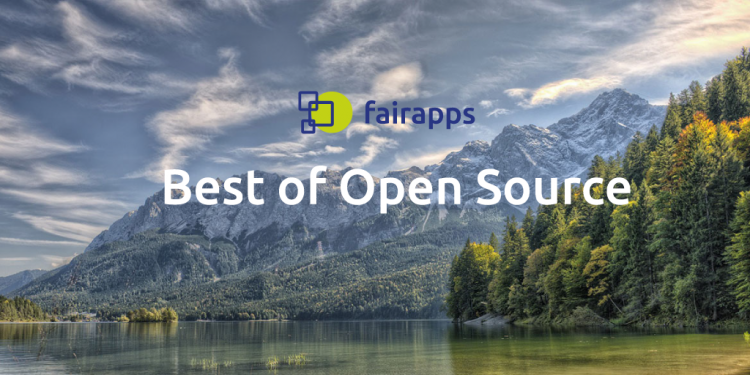 With fairapps we want to provide a data secure, social and green alternative to big commercial data collectors, which takes data protection seriously. Therefore we have compiled a portfolio on fairapps.net with the best open source web alternatives to common online services. All applications are connected to our Single-Sign-On (SSO) fairlogin and can be reached with one username and one password.
For companies and organizations all our web apps are available as white label solutions, with CI branding and feature extensions.
Alternatives to...

faircloud instead of Dropbox, iCloud & OneDrive
With our branded Nextcloud, faircloud, we offer an alternative to common cloud services. You can easily store, manage and share data with others from any device. Synchronized calendars and address books, online document editing and more, for you or for collaborating with others.


fairchat instead of WhatsApp, Slack, Telegram, Facebook Messenger
Our Rocket.Chat based messenger app fairchat stands for simple, direct and confidential communication. The open source chat has an extensive feature set for web and smartphone and guarantees a comprehensive protection of privacy, GDPR compliance and no sale of data. For business customers the chat app is also available as a white label solution with additional features on request. Additionally we also support data migration from Slack.


fairmeeting instead of Sykpe, Zoom & Co
fairmeeting is an encrypted video conferencing solution that is ready for use without registration or installation. With the optimized Jitsi Meet application, audio or video conferences with multiple participants can be easily started via web browser or mobile app. fairmeeting includes an integrated chat function, screen sharing and a document for shared notes.


board.net instead of Google Docs
board.net is our etherpad for collaborative work. You can simply write simultaneously on the same document with others. It is suitable for quick notes, wish lists, common planning or writing the minutes. Ideas can be shared and further developed in a collaborative way. The board name is also your access code.
As an official Rocket.Chat partner, we offer customized live chat widgets to any website or mobile application. Consultants can easily be managed and coordinated in the Rocket.Chat web interface. The live chat offers a modern and fast service for the processing of inquiries and the support of existing or new customers.


fairoffice intead of Microsoft Exchange, SharePoint, G Suite
fairoffice is a groupware application based on Group Office. Whether project and time recording, offer and invoice modules, tasks and emails - the office in the cloud summarizes all business processes at a glance in the web. fairoffice makes it possible to keep all data regional and to share every folder, calendar or address book as required or to synchronize it with any other device. Folders in fairoffice can also be connected to Nextcloud folders.


ERPnext instead of SAP
ERPnext is a free open source enterprise-resource-planning-system that is a powerful tool with accounting, HR & payroll, manufacturing, sales, CRM, purchases, website, webshop and many more capabilities. As a open source application it is license-free software  and therefore a cost-effective and fully-fledged SAP replacement. fairkom provides conception, hosting, configuration, customization and training for ERPnext.


fairlogin SSO instead of Google, GitHub, Facebook, Twitter login
With our identity management system fairlogin we have developed an alternative Single-Sign-On (SSO) system. The fairlogin identity provider is also white labeled available and can easily be implemented to your existing system: We provide user administrations for your infrastructure and connect them to existing applications. Policies, applications and user groups can be managed and set up independently.
We are also happy to add your applications to fairlogin on request in order to use and share programs together.