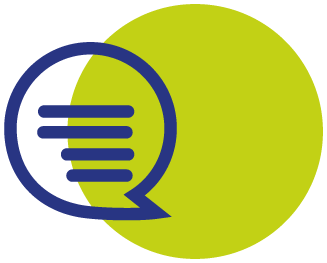 Your secure and GDPR compliant messenger
Facilitating simple and unlimited communication with text, image, video and audio messages.
The fairchat open source messenger has a rich feature set and works perfect on your browser or smartphone. As the server is hosted with our kubernetes cluster or at your data center, a comprehensive protection of your privacy can be achieved.
The fairchat mobile app is derived from the rocket.chat app and thus can be connected to any rocket.chat server. Together with our push gateway we build highly available and scalable chat communities independent of rocketchat's cloud infrastructure.
fairchat features
Video chat
Video conference with one or more participants.
Chat rooms
Create your own private or public rooms with unlimited group size.
Audio and video messages
Easily record and send audio and video messages.
Email notifications
Email notifications and direct replies to missed messages.
Language translation
Real-time message translation for several languages.
Off-the-record
Additional encryption in web chat for highly confidential messages.
GDPR compliant
fairchat doesn't copy any contacts from your smartphone and protects your personal data.
Single-Sign-On
With fairlogin you can use all our fairapps services - one account for all applications.
Your way to fairchat
supporting any mobile or stationary device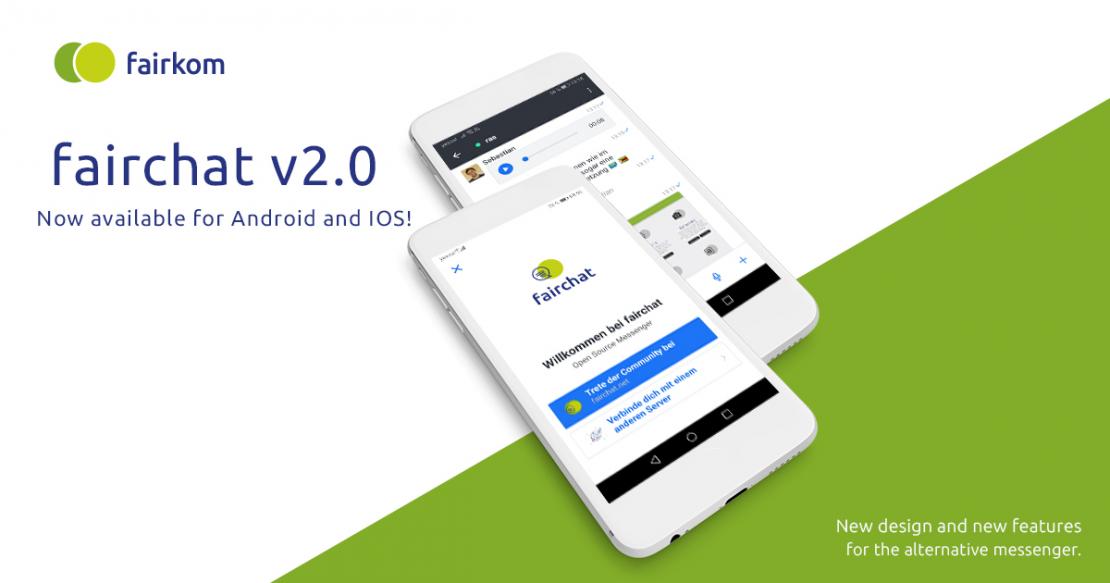 fairchat solutions
fairchat with branding and push gateway
The fairchat Messenger can be used with a web browser, as a program or on any iOS and Android smartphone.
We are happy to offer support with onboarding as well as training or functional enhancements.
Open and closed rooms with unlimited group size can be created and managed.
We also offer to install fairchat as an independent messenger server with individual adjustments.
We may adapt it with your corporate identity and brand it with the organization logo.
Our push gateway can be also booked for any rocketchat based instance.
Large numbers of push messages can be booked for an affordable price.
customized fairchat fairchat Push Gatewaysales [at] fairkom.eu
fairchat white-label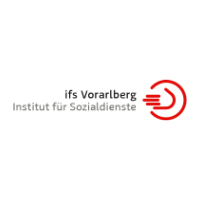 O2O Wind
O2O Wind - Ecopower Academy
Halmstad, Schweden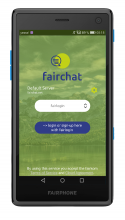 Your fairchat
Your logo, your CI
fairchat customized for business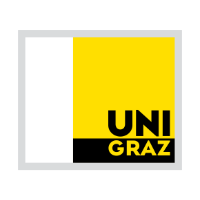 Ucom
Austrian Federal Chancellery
Vienna, Austria

Green & Fair
Energy-efficient and CO2-neutral servers. Surpluses are invested in software development, social and sustainable projects.

Privacy Protection
We take privacy very seriously and do not copy your address books. No data sale. Your communication is protected with SHA-256 encryption by default.

Open Source
fairchat is based on the rocket.chat community server.
The fairchat mobile apps are customized rocket.chat apps without hidden backdoors (code).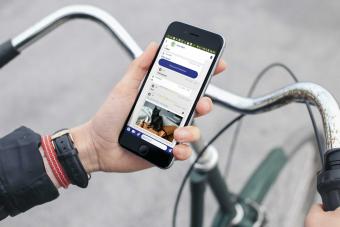 fairchat as a service
Start immediately with your friends, family or your initiative.
Share your life or your passion. Simply register with fairlogin and get started on our community server fairchat.net. Stay up to date without delay and securely in private chats and closed rooms. You can invite friends to join a group using a link or by e-mail, or you can find their nickname in the fairchat community directory. fairchat is the only messenger to offer open channels that you can use like a public forum or embed in a website.  If you frequently use fairchat.net, consider a donation to cover server costs - thank you!
Chat Lösungen für's Unternehmen
Beratung, Entwicklung und Implementation
Wir beraten Unternehmen beim Umstieg zu datenschutzkonformen Chat-Anwendungen und fügen diese auch in die bestehende Infrastruktur ein. Individuelle Lösungen sind uns wichtig und wir bieten deshalb maßgeschneiderte Anpassungen an die konkreten Bedürfnisse unserer Kunden: Funktionserweiterungen, Live-Chat Integrationen, CI-Branding, selbstständige Benutzerverwaltung, Eigen-Hosting, erweiterte Sicherheitsstandards und vieles mehr.
sales [at] fairkom.eu
Identitätsmanagement mit Rocket.Chat
fairkom Push Gateway und die Synchronisation von Gruppen
Einige Funktionen von Rocket.Chat werden mit der Version 4.0 nur noch in der Enterprise Edition verfügbar sein. Die Community Server Edition Version 3.18 wird bis März 2022 unterstützt. Anschließend steht ein Upgrade auf eine 4.x Version an. Die Einschränkungen betreffen das Identitätsmanagement. Das Zuordnen von Rollen und Gruppen anhand von Identitätsmanagement-Systemen wird in der Community Version nicht mehr verfügbar sein. Dies betrifft die Synchronisation von Gruppen per LDAP/OAuth/SMAL. Um dieses Problem zu umgehen, entwickelt fairkom eine Erweiterung für Keycloak, um direkt mit der Rocket.Chat API kommunizieren und Gruppen synchronisieren zu können.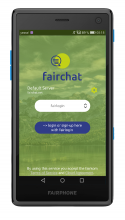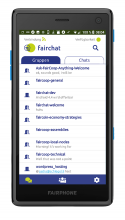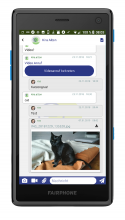 fairchat FAQs
How do I find my friends?
Once they have signed up, you can look them up by their nickname. You will find an icon in the app and a globe symbol in the web. The best way is to invite them to a channel (click on the members symbol). Or simply send them an e-mail.
How can I invite other participants to a video chat?
When you press the video chat icon in a fairchat room, an invitation is sent, so that other members of the group can also press the button to participate. Each video chat room has a unique URL. By pressing the sharing icon in the conference, you can invite other people (even if they are not in fairchat). You can also start a video conference without registering at fairchat from the home page. Just enter a room name and then you can invite more people.
How do I apply for an account?
This service is provided on a fair-use principle. Anyone can use fairchat and the embedded fairmeeting video conferencing service, who is accepting the fairkom cloud terms of service. You can login or register via the fairlogin button on the fairchat.net homepage. With the Single-Sign-On-ID fairlogin also other web services provided by fairkom or associated partners can be used at fairapps.net
How is fairapps financed?
Private use is free and without advertising. We do not sell any data. The fair-use principle applies, so we reserve the right to restrict accounts in the event of excessive use.
Our business model is that fairkom gladly offers specific solutions for companies or associations. On request, we also build an app and make it available in the Google Play Store and on iTunes. Our sales team will be happy to offer you an individual package.
Some more fairapps are only available in the BASIC or PRO subscription, according to your needs.
Where can I make suggestions for improvement?
Where can I make suggestions for improvement?
We have a channel called "fairapps", there you enter your suggestion or question, perhaps someone will answer immediately. For bugs, wishes and suggestions you can also open an issue in the gitlab here.
Can I correct a message?
Messages are also sent as notifications by e-mail, if a user has set them up. As a result, messages should not be changed significantly later. The possible processing time is limited to half an hour.
How are the messages encrypted?
The connection from both the web chat as well as the fairchat app is established via https and Forward Secrecy. This means, the transmission path is so strongly encrypted that even if someone would record the communication and intensively try to crack the data stream, he or she would fail. For smartphones, the encryption of the memory is done by default (double-check on Android, if in doubt!). End-to-end encryption without record in the web browser can be activated at any time between two participants in a personal chat room in the upper right corner. We currently work on end-to-end encryption for all rooms- but that always includes compromises, such as the history not being available or that the concerned messages are not displayed on all end devices.
What appears in the search?
fairchat was originally intended as a community chat especially for our customers and partners. That is why it is also possible to search the chat directory for everyone registered. However, you are encouraged to use a user name that only your friends know. You can set up or change your username in your profile.
For customers, we also install our own instances, where only the employees are visible.
How can I upload a file with the Android App?
Depending on the version and model of your smartphone, there is another pre-installed file manager. Selecting a file or photo in the DCIM folder works best with Amaze File Manager. After touching the paperclip in the app, it usually appears at the bottom left.
How long are the messages stored on the server?
Since we provide the online chat at fairchat.net, messages remain stored on the server. This allows you to receive these messages if, for example, you log in later with a tablet. We do not aim to store messages longer than necessary. With other rocket.chat developers, we are currently working on a solution so that each user can decide for himself how long the messages should be stored. It will be featured in one of the next versions.
Do certain ports have to be open for the video function?
fairmeeting is based on Jitsi Meet and this tries to find different ways to broadcast the audio and video stream. The firewall should allow UDP 10000-20000. If this is not possible, the transmission takes place on the TCP port 443, which is always open, but which may limit the transmission quality.
A system administrator or a Linux desktop can test this with netcat:

nc -vuz media.fairmeeting.net 10000
Connection to media.fairmeeting.net 10000 port [udp/*] succeeded!
In some organizations, all media streams can also be blocked. These must be allowed for IP 51.38.117.249.
Where do I report abuse?
Users are responsible for their own content. In case of violence or bullying being reported or if prohibited content is exchanged, you can report this abuse [at] fairkom.eu (subject: Abuse%20Message%20fairchat, body: I%20found%20in%20this%20channel%20....) (>>here).
How do I delete my account?
You can delete a fairchat account in your profile. The fairlogin ID is retained, allowing you to keep using other services which use fairlogin as an identity provider. Please contact us if you wish the fairlogin ID to be deleted as well.
How is a high level of reliability ensured?
We are hosting fairchat on our own kubernetes cluster. The data center is equipped with emergency power generators and has multiple tier internet connections.
The availability of fairchat is at least 99.8%. Chat messages are not lost should a server be temporarily unavailable. A team of multiple system administrators monitors the availability and has installed its own monitoring system. We provide support according to the best-effort principle, SLAs can be established on request.
Is the address book of the smartphone uploaded to a server?
No, the address book is not uploaded to a server, which is why we are one of the few GDPR-compliant messenger providers. Furthermore, we do not make use of your phone number for identification.
What is the maximum group size for fairchat?
The group size is unlimited.
How do I leave or delete a group?
There are several levels of permission in chat groups in the webchat: User, owner, moderator.  You can hide or leave a group in the list of chat groups on the left. Only owners of a group can delete a group. To do this, click on the user who should be allowed to do this in the list of members, select the menu and "set as owner".
Where can I find more documentation about the chat?
We use Rocket.chat as our server and are part of their open source community. For the web chat you can find more documentation here.
When will notifications be sent?
For each chat group, you can set how and on which channel you want to receive notifications in the top right corner of the web chat. In addition, in the personal settings you can switch on whether your status should automatically be set to "away" after a certain time depending on the activity. With @all you can reach everyone in a group. An overview of the workflow can be found here.
Can I record a video conference?
fairmeeting pro has the possibility to record a video conference on the server. 
Alternatively we recommend a screencasting on your own laptop, there are various programs for this purpose, for Linux e.g. vokoscreen or kazam or Open Broadcasting Service (available for Windows, Mac and Linux).
See the fairmeeting FAQs for more details.
Can I send messages to other messengers?
Use Meetfranz and add RocketChat as a service with the URL fairchat.net .
Unfortunately, the messenger landscape consists of walled gardens - communication with one another is undesirable. There are three open protocols: XMPP, Matrix, and RocketChat Federation. However, these are not supported by WhatsApp, Telegram or Signal. You can only simulate mirroring with complex API calls or hooks - this can be set up for individual channels on request (support is subject to a fee).
How does the fairchat Push Gateway work?
The fairchat push gateway is sending  notifications to Android and iOS smartphones. You need to use our fairchat App, which is compatible with the RocketChat app, but has its own keys.

We run the push gateway in our own kubernetes high availablitity cluster. We are also offering this service to any  other  RocketChat server. Here is an example for a pricing for 50.000 messages per month.