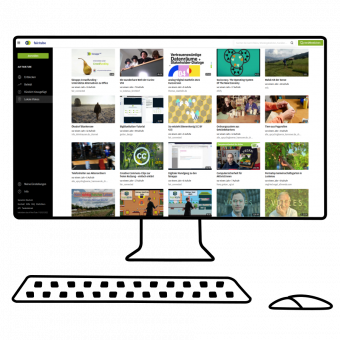 fair.tube as alternative to YouTube
Based on PeerTube
The video-platform fair.tube invites users to share videos privately or publicly. The special thing about the alternative video platform is the peer-to-peer transmission. This means that when you watch a video, your own computer helps to distribute the video. If many people watch the same video at the same time, the browser sends small video parts to other viewers. The distribution of the data streams is particularly energy-efficient, even with many viewers no large server capacities have to be provided in the data center. If you need to save bandwidth, you can also disable p2p mode.
With a fairlogin account everyone can upload videos to fair.tube. Users who want to share their videos are not dependent on large video platforms that collect user data and place advertising. fair.tube is financed by subscription packages and therefore remains free of advertising.
Peer-to-Peer
With peer-to-peer transmission, data streams are divided and server overload is prevented.
GDPR Compliant
The servers are located in Austria and Germany. Apart from the login, no personal data is stored.
Live-Streaming
Events can be live-streamed.
fair.tube is part of Fediverse, a network of alternative social media with more than 7000 servers and over 4 million active users (2021).
The Fediverse also includes the Twitter alternative Mastodon or the Instagram alternative Pixelfed. The main difference to the large commercial providers is that the program code is visible to those interested: there are no hidden algorithms, but numerous extensions and everyone can become a publisher themselves. A:e operator:in a PeerTube platform can make their own videos available to other platforms or subscribe to them. Responsible for this is the ActivityPub protocol recommended by the World Wide Web Consortium W3C for decentralized networks. The transmission from the server and between browsers takes place via WebRTC, a protocol that is also used in video conferences. In this way we enable an independent selection and variety of videos without having to set up
Bundles
Prices for fair.tube
Business-Bundles
for fair.tube
fair.tube unlimited
no data-limit
unlimited video quota
Price on request
with fairstream and premium support
sales [at] fairkom.eu (sALES[at]FAIRKOM[dot]EU)
fair.tube events
no data-limit
no viewer-limit
 229 € / Day
with fairstream and premium support
 
sales [at] fairkom.eu (sALES[at]FAIRKOM[dot]EU)
Any questions?
Answers in the FAQs