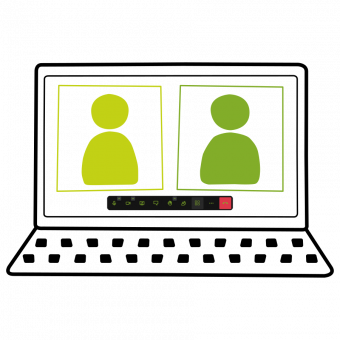 fairmeeting videoconference
Secure, GDPR compliant & user friendly
Just start an audio or video conference in your browser and share the link. Anyone can easily join the videoconference with the link. Use the integrated chat function, screen sharing, a document for shared notes or the option of recording a video.
The servers are configured to be fail-safe and are located in Germany and Austria. fairmeeting is based on the open source project Jitsi Meet and meets the highest security and data protection standards. No external servers (such as Google Analytics) are contacted or cookies are stored.

Browser-based software or installable as a programme

Document for shared notes
Create a room
Try it out now in your browser for free and without registration.
fairmeeting on the go
For mobile use, simply download the Jitsi Meet App. In the settings, choose https://fairmeeting.net as your server.
That way you can join any videoconference on the go.
iOS Jitsi App Android Jitsi App via F-DROID Android Jitsi App via Play Store
fairmeeting for the desktop
For optimal conferences on a laptop or PC, we recommend installing the fairmeeting software.
With end-to-end encryption and remote control (remote maintenance of another desktop).
Pro-Users with subscription enter https://pro.fairmeeting.net as server in the settings.
fairmeeting
for Windows fairmeeting
for MacOS fairmeeting
for Linux
1 Subscription - 2 Applications
fairmeeting and fairteaching in one package
With fairmeeting and fairteaching, audio and video conferences can be easily started and conducted without installation.

fairmeeting, self-hosted JitsiMeet, is perfect for team meetings or spontaneous conversations.
fairteaching, self-hosted BigBlueButton, is designed for webinars, lectures and workshops,
where clear roles such as presenter or moderator are desired.

Both applications allow the creation of breakout rooms or the selective administration of participants.
And support diverse functions, such as shared notes or whiteboards, communication and collaboration.
Both applications complement each other perfectly and can be used as required.
Any questions?
Which browser is best? How do I protect my room?
fairmeeting in browser
Instantly connected - Share URL and everyone is in the same room
Send the room name to your team or friends. You can get this right here. fairmeeting is an encrypted video conferencing solution made from 100% open source software that fairkom offers as part of fairapps - without any registration. For notes, there is a jointly editable document in each conference room. We recommend using a headset, if possible a LAN cable and a Firefox or Chrome / Chromium browser. A list of previous conferences is only shown in your browser or on your app and is not stored on the server.
fairmeeting in your IT
Consulting, development and implementation
We deliver customized solutions for companies and organizations on-premise or at our server infrastructure. With SSO/ AD integration, CI branding , your own domain, functional adjustments or integration in existing IT environments.
sales [at] fairkom.eu (sALES[at]FAIRKOM[dot]EU)
fairmeeting with branding
Individually designed video conferencing solution
fairmeeting can be adapted according to the corporate identity and provided with the organization logo (top left or right in the picture). Up to 200 participants can hold video conferences in HD video resolution in up to 8 simultaneous conference rooms via a separate entry page. The last active streams are displayed and joint notes can be recorded in a pad or as a video recording.
fairmeeting with OPA
Order Processing Agreement
An agreement on order processing regulates the data processing obligations for clients and contractors. Among other things, the contractor is obliged to encrypt personal data that is processed within the scope of the order. fairkom offers a standard order processing agreement in accordance with Section 28 GDPR for customers at no extra charge.
sales [at] fairkom.eu (sALES[at]FAIRKOM[dot]EU)