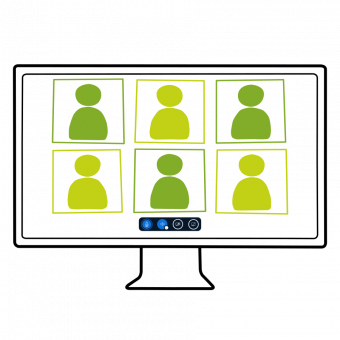 fairteaching
Video conferencing solution for webinars, events, talks & workshops
Whoever chooses to sign-up can create a new room and add participants to the conference by sharing the link without installing any software. It is possible to join the conference with your smartphone as well. There are many possibilities for moderators to customise the meeting experience for the participants. You can either choose to restrict the rights of users (e.g. disable webcams and private chats for others) or keep it on equal terms. There are practical features like the whiteboard or the etherboard that make collabrations in the conference very easy.
Try fairteaching
just open a new room
Registration with your fairlogin or the demo account:
maria.tester [at] fairkom.net and password fairkom
1 Subsciption - 2 Applications
fairmeeting and fairteaching in one package
With fairmeeting and fairteaching, audio and video conferences can be easily started and conducted without installation.

fairmeeting, self-hosted JitsiMeet, is perfect for team meetings or spontaneous conversations.
fairteaching, self-hosted BigBlueButton, is designed for webinars, lectures and workshops,
where clear roles such as presenter or moderator are desired.

Both applications allow the creation of breakout rooms or the selective administration of participants.
And support diverse functions, such as shared notes or whiteboards, communication and collaboration.
Both applications complement each other perfectly and can be used as required.
New function for BigBlueButton
Audio Sharing Feature / Function for interpreters
With fairblue, video conferences can be translated simultaneously by interpreters. The function was developed for BigBlueButton and can be integrated into video conferencing applications.
We are well networked with the international developer community and operate the German-language chat channel #bbb for exchanging experiences.
fairteaching as an individual solution
Consulting, development and implementation
We are happy to offer individual solutions for companies and organizations: as your own on-premise instance or via our server infrastructure with CI branding, user administration, single sign-on, your own domain and integration into existing systems. With load balancers scalelite / bbb@scale.
sales [at] fairkom.eu (sales[at]fairkom[dot]eu)
faircloud and fairteaching
File manager and video conferencing in one place
With the integration of fairteaching, video conferences can be started directly via the faircloud. fairteaching in combination with the faircloud enables file management and agreement on documents or upcoming appointments via video conference in a digital location in the browser without having to switch or install applications.
fairteaching for educational institutions
fairteaching and fairapps
fairapps edu is based on the needs of educational institutions and combines a variety of web applications with the video conferencing solution fairteaching. The web applications in the faircloud are designed to manage files, groups and activities, while audio or video conferences can be started and shared via the browser with fairteaching.


The open source software (BigBlueButton) can be modified and adapted to the respective needs.