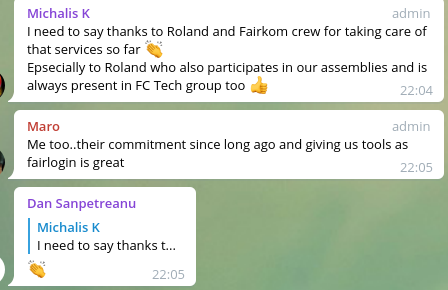 The FairCoop community is trying to establish a global circular ethical economy. With FairCoin they use their own medium of exchange and more than 50 Local Nodes are giving support and store and exchange goods.
fairkom is providing for FairCoop under "fair use" conditions gratis since 2015 hosting of
gitlab at git.fairkom.net 
etherpad at board.net
RocketChat at fairchat.net mirroring some telegram group and offering automatic translation
automatic translation service for fairchat (3rd party costs)
more than 50 E-mail accounts @cloud.fair.coop 
owncloud/nextcloud at fairkom.net/owncloud
SSO identity with fairlogin 
In the FairCoop global assembly on 22 Feb 2019 it was decided, that fairkom will get a donation each month for providing that services in FairCoin. We will use it for buying coffee, tea or olive oil from other merchants or let print leaflets from printers, who accept FairCoins.