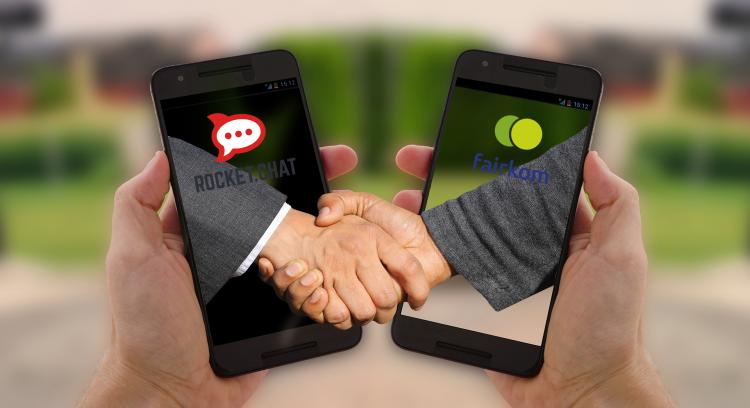 The leading open source team collaboration platform Rocket.Chat and the Austrian Open Source consulting association fairkom will further expand their cooperation in order to jointly promote the Rocket.Chat technology. With the Rocket.Chat application, the growing demands on simple, fast and direct communication are to be further developed in order to offer a data-secure Open Source alternative for private individuals, organizations and corporations. As a European partner, fairkom can guarantee the strict data protection guidelines (GDPR) of the EU and at the same time fairkom can support Rocket.Chat customers in Europe on site.

Live-Chat and white label chat app solutions
Due to the increasing demand for live chat applications, Rocket.Chat and fairkom are driving optimization processes in order to cover all customer requirements with the Rocket.Chat Live Chat feature. This includes Single-Sign-On or directing requests directly to available agents at pre-selected departments.
A mostly automated workflow for the generic white labeling will be developed, so that customers can be offered customized chat apps for Web, Android and iOS, with their own CI branding and matching functional requirements.

Rocket.Chat's CEO, Gabriel Engel is excited about a new partner in Europe when meeting fairkom team members in Munich. "Great that the Rocket.Chat family is growing. With fairkom as a competent partner at our side, we can push ahead with further developments of our technology and at the same time we can intensify our expansion into the important European market."
"We are happy to be part of the active Rocket.Chat Open Source community. After having successfully deployed a customized Rocket.Chat based chat app for the Austrian government and other sectors, we got further engaged in the Rocket.Chat suite, a partnership with Rocket.Chat is the next logical step. Our professional experience with Single-Sign-On frameworks is a key for corporate environments and our experience in developing customized apps is contributing to the further successful development of Rocket.Chat." says Roland Alton, CEO of fairkom. 

fairkom is located in the Austrian Alps and is delivering communication solutions for teams, governmental organisations and companies since 1994. It is an active supporter of Open Source and Creative Commons culture and offers a decent portfolio of free software cloud services, apps and labels on fairapps.net. 
Rocket.Chat is is the leading free and open source team collaboration platform featuring a team chat alternative to Slack and Microsoft Teams with one of the largest chat development community on github.  Rocket.Chat is a feature rich collaboration suite, including free audio and video conferencing, guest access, screen sharing, file sharing, LiveChat, LDAP group sync, End-to-End encryption, unlimited users, channels, messages or files, live chat, and real-time translation, all fully customizable.