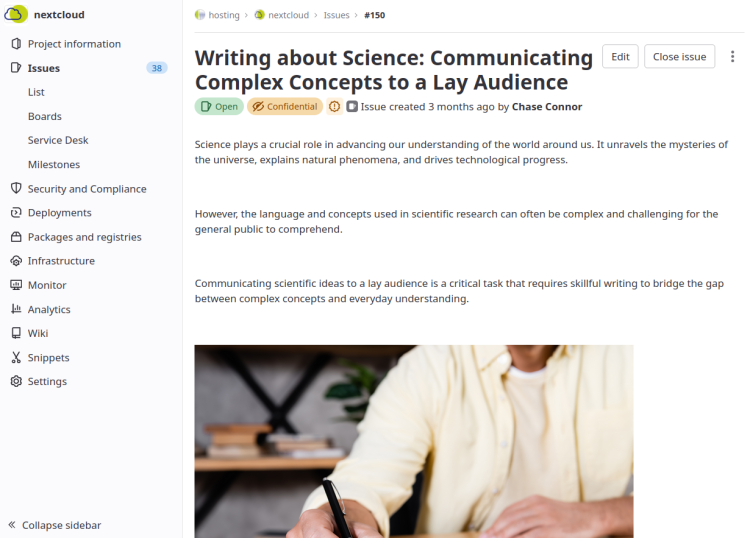 fairkom is running a large gitlab instance hosting more than 1000 projects and 3000 users. Starting in spring 2023 we were faced with registrations from users, that created issues with film lists or articles on how to use AI for writing scientific articles.
As a first reaction, we had to cancel our offer for any user to start up to 5 projects in our gitlab. Up to ten users per day were still continuing to sign up and posted comments or issues into unrelated projects.
Logging in to fairkom's gitlab is only possible with a fairlogin account. Registration is possible with a form or by just using a Google account directly from gitlab or at fairapps.net.
We experimented with geographical restrictions, as we had observed that spammers came from Asian countries mostly. We added geoip rules to the nginx proxy. Users from outside Euorpe, that try to register for a fairlogin account or that login via Google IDM federation, are now pointed to a WIKI page saying:
If you need to register for a fairlogin account from outside Europe, please send a message to support [at] fairkom.eu (support[at]fairkom[dot]eu) and we will create an account for you.
More than 700 accounts have been banned manually at our gitlab in the last months. We now can continue the service for existing projects and hope, that spammers do not investigate other entry points which contradict to our fair use policy. Offering open services always has been and will be  a compromise between true openness and providing a good service quality to all users who are using our platforms for their intended purpose.