Creative Commons Austria
We love to share!
Creative Commons offers a license kit for publishing texts, images, music or videos.
This gives authors, scientists, artists and educators the opportunity to label their creative work and set terms of use.

Foundation of a Creative Commons Chapter in Austria
On July 9, 2020, the CC AT Chapter was founded via video conference. fairkom was the public lead until 2018, but governance has changed internationally. Alexander Baratsits was elected Chapter Lead, and Roland Alton-Scheidl was elected Representative to CC Global Network. So nothing new in terms of people. Anyone who would like to get involved or take on a role is welcome to contact team [at] creativecommons.at. With the founding of the chapter, we can continue our active role in legislative processes, for example with statements.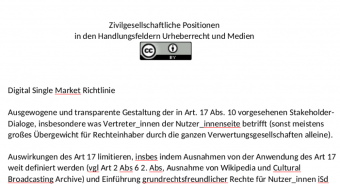 Copyright and Media Positions
Together with other organisations, we develop and comment on draft legislation.
Draft statement on the UrhG amendment in Austria 2021 (October 2021).
Statement on the working group drafts of the forthcoming UrhG amendment in Austria 2021 (December 2020).
Creative Commons AT statement on the first implementation draft of the BMJ on text and data mining and exceptions for digital uses in teaching and teaching (July 2020).
Statement on the implementation of the Digital Single Market Directive, a proposal to set up a digital fund, OER and commons as a public service (November 2019).
Creative Commons Austria
we started in Austria in 2004 with an art campaign: 1000 "Open Source Water Bottles" were bottled at the Hatler Fountain in Dornbirn and taken to the Ars Electronica Festival in Linz when Creative Commons took the Golden Nica won. Since then, a dedicated team has taken care of content licensing issues and how to free them from unnecessary copyright shackles. We promote, maintain the translation and show applications of intangible commons.
The best success is not only the more than 1 billion works that have been placed under a CC license worldwide, but also Austria's pioneering role: the cities of Graz, Linz and Vienna made publicly available data available for the first time in their Open Data Initiative in 2011 under a CC-by license, meanwhile there are more than 23,000 data records in the Austrian Open Government Data Portal  and in the sister portal OpenData Portal Austria more than 400 data sets available.
Anyone who would like to be kept up to date on our activities or who would like to ask questions or get answers on licensing topics is welcome to use the CC- Subscribe to the mailing list. 
The following members of the fairkom society take care of Creative Commons in Austria on a voluntary basis:
DI Dr. Roland Alton (Public Lead AT, interview in VB Magazin pages 36-37)
Dr. Alexander Baratsits MAS (Legal Lead AT)
The core team, which can advise on questions of education, archiving or technology, also includes:
Dr. Joachim Losehand (Science Communication)
Mag. Gernot Hausar (Open Educational Resources)
Dr. Nicole Lieger (CC Community Manager)
Contact: info or legal or team at creativecommons.at
We've been doing this for quite some time. If anyone wants to get actively involved or replace us, just get in touch!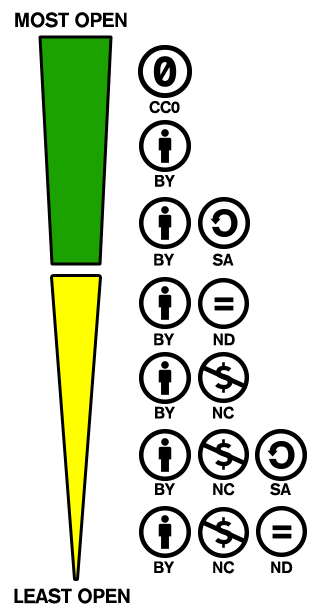 CC offers 7 license types. These are attached to the work so that a user knows immediately under which conditions the work can be used. The differences are explained here. Each license has three levels: legal text, easy-to-understand symbols, and machine-readable code. This also allows search engines to distinguish which images may be shared. On Google you can find this filter in the advanced search.
Find CC licensed images, music, videos and text with the
Financially support the infrastructure of CC Austria